Pressure Relief Vents
PRV-F②-C Ceiling-Mounted Gas Vent
Select a product information:
Compliant with BS EN 15004-1, NFPA 2001 & LPS 1230
Single direction venting
Fully open @ 100 pascals
Serial Number Traceability
10 Year Warranty as Standard

Get a quote

The PRV-F②-C Ceiling-mounted range of inert gas vents is designed specifically for over-pressure venting associated with inert gas high-pressure Fire Suppression Systems.

The Vent is offered in two standard sizes for horizontal (ceiling) installation. Providing market-leading performance across a range of pressures.

The vents are designed to start opening at 80Pa and fully open at 100Pa, this allows annual integrity room tests to be performed without the need to block the vents during such a test.

Apreco inert gas vent

Demand for Apreco's inert gas vent is increasing with the recognised need for over and under pressure venting associated with Inert and Synthetic Gaseous Fire Suppression Systems.

Buildings are most commonly designed to withstand internal pressures of between 250 to 500Pa, though this can vary depending on the type of construction. The use of correctly sized and functioning pressure relief vents will protect such building structures from damage.

Apreco inert gas vents are of 'counter-weighted' design to prevent the risks of over and under pressurisation resulting from the use of gas fire suppression systems.

Specifically developed for these applications, the range can be used alongside a wide range of gas fire suppression systems to prevent structural damage and risk to personnel.

Maximum room pressure is controlled by the vents opening to allow air to escape, then closing when discharge is complete. This maintains the dilution of the air, so preventing re-ignition.

Vent Sizes

Standard stock models shown and sized. Bespoke sizes available upon request

Model
Free Vent Area
(FVA m2)
Nominal Size
(W x H mm)
Maximum size*
(W x H mm)
Aperture size
(W x H mm)
Weight
(Kg)
PRV-F②-C-0303
0.079 Internal
0.061 External
300 x 300
440 x 450
360 x 370
9.0
PRV-F②-C-0505
0.212 Internal
0.162 External
500 x 500
640 x 650
560 x 570
17.0

* Cover Grille maximum dimensions are 10mm greater than the stated PRV-F②-C inert gas vent maximum size.

PRV-F②-C Data sheet

Category: Data Sheets • Filetype: pdf

PRV-F②-C Installation Guide

Category: Installation Guides • Filetype: pdf

PRV-F②-C Drawing

Category: Drawings • Filetype: pdf

Just a few details to fill in...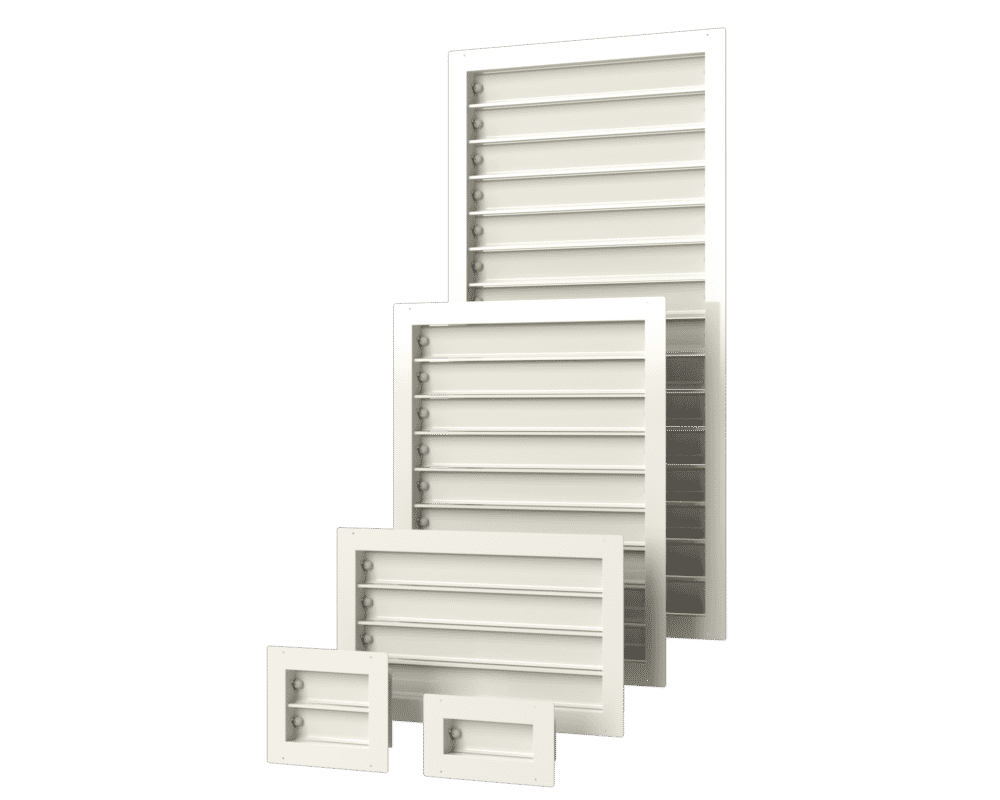 Pressure Relief Vents
PRV-123 Pressure Relief Vent
Single-way Pressure Relief Vent designed for air pressure relief of stairwells to EN 12101-6 and other industrial applications.
View Product