Case Study
Stairwell Pressurisation Systems in Multi-storey Buildings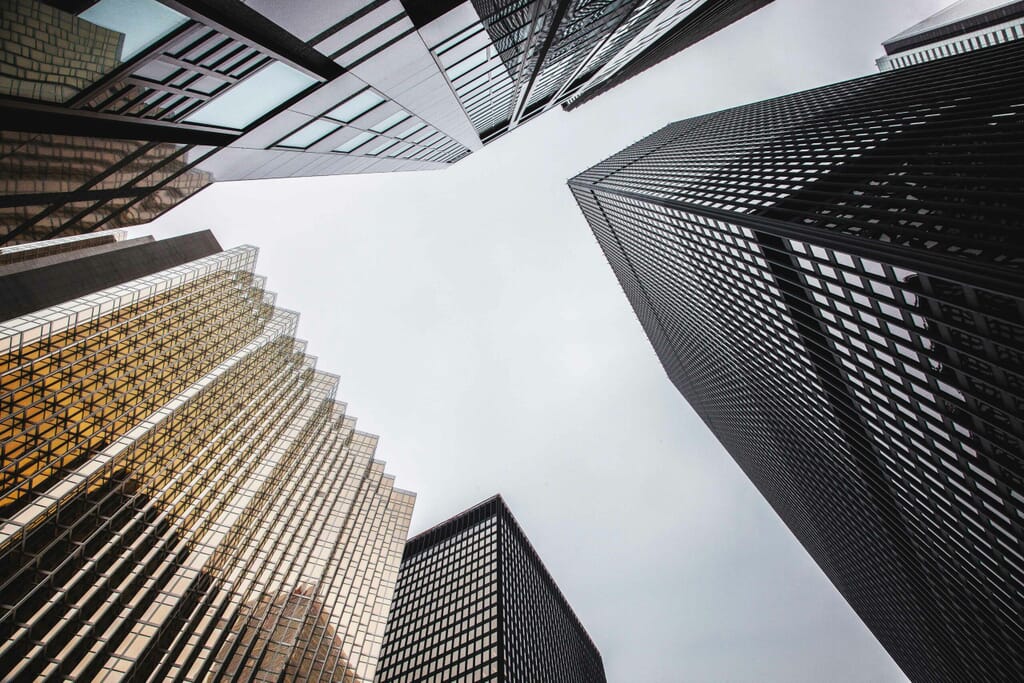 Each year fire outbreaks across the United Kingdom result in numerous injuries and deaths. Fire and rescue services attended more than half a million fire incidents in England during 2018 and 2019. Similar incidents reported in Scotland, Wales, and Northern Ireland totalled more than one-hundred-and-fifty thousand. Fatalities due to fires amounted to more than 285 in 2019 and 2020.
Legislation requires that buildings must have:
The required fire escape routes and fire exits.
Measures in place to ensure the safety of fire escape routes, which include systems preventing the spread of fires and smoke.
Pressurised stairwells
Incorporating a stairwell pressurisation system in a multi-storey buildings ensures that fire evacuation routes are free of smoke and heat. These specialised systems also assist with the prevention and containment of fires and provide firefighters with access to areas to extinguish fires.
Importance of smoke and heat control in fire escape routes
Many believe burns to be the leading cause of death in fire victims. Statistics, however, indicate that smoke inhalation causes between 50% and 80% of fire-related deaths. Burns primarily affect specific parts of a person's body, whereas smoke inhalation affects all organs.
In the event of an emergency, it takes longer to evacuate multi-storey buildings. Smoke and heat-free emergency escape routes:
Enable fire and rescue services first to evacuate high-risk occupants. A pressurised stairwell provides the remaining evacuees with a smoke and heat-free area where they can wait until evacuated.
Provide fire and rescue services employees with safe areas from which to fight fires.
Provide fire and rescue services employees with escape routes if needed.
Fire smoke is highly toxic, consisting of gases such as carbon monoxide and hydrogen cyanide. The toxicity increases the longer a fire rages. Respiratory distress, loss of consciousness, asphyxiation, and organ failure are some of the effects of smoke inhalation. These physiological effects are categorised as:
Systemic – inhaling toxic gases from fire smoke is suffocating and fatal. It can lead to death in approximately seven minutes.
Heat – smoke is not only toxic but also hot. This heat burns the mucous membranes in the respiratory tract, causing damage, swelling, and possible collapse.
Chemicals – everyday appliances and furniture combust in fires and release harmful chemicals. Inhaling these chemicals damages the respiratory tract.
Experts estimate that approximately 73% of fire survivors suffer long-term and lasting effects. The non-fatal, chronic consequences of smoke inhalation include numerous respiratory ailments such as emphysema, chronic obstructive pulmonary disease, and asthma.
Stairwells are the primary fire escape routes in multi-storey or high-rise buildings. Smoke-filled escaped routes, without a pressure relief damper for the staircase, endanger lives. The installation of stair pressurisation systems is crucial for facilitating evacuation, preserving human lives, and reducing property losses in fire outbreaks.
Purpose of stairwell pressurisation
The pressurisation of stairwells is engineered to prevent smoke and heat from leaking past closed doors and infiltrating stairwells. The systems control air pressures to restrict smoke and heat movements.
There is a legal requirement that architects and developers incorporate a stairwell pressurisation system in the design and construction of multi-storey buildings. These systems keep emergency exit routes clear of smoke and fire in the event of an outbreak by controlling the air pressure in an escape route. The air pressure differences between the area on fire and the stairwell ensure a smoke and heat-free emergency escape route.
Air pressure parameters
It is essential that the installed staircase pressurisation system establishes and maintains the correct minimum and maximum air pressures in the stairwell. The standard on smoke and heat control systems (BS EN 12101-6:2005) prescribes the air pressure parameters to be maintained in pressurised stairwells.
The air pressure parameters should be sustained between 50 Pa and 60 Pa to ensure that smoke is kept out and doors can still be easily opened. Properly designed and installed air pressure relief vents are the best method of establishing and maintaining these air pressure parameters.
How a stairwell pressurisation system works
A stairwell pressurisation system is mechanically designed to establish air pressure variations between adjoining areas – such as an emergency escape route and a burning room. These air pressure differences (or variations) ensure that one side of a wall has positive and the other negative air pressure.
Combined air injection, air pressure relief, and air release from the area on fire are necessary for the effective functioning of a pressurisation system. This is established by injecting air into the stairwell, ensuring the air pressure in the emergency escape route (stairwells, in high-rise buildings) is greater than the air pressure in the adjacent area where the fire is raging. The stairwell's positive or greater air pressure prevents smoke and heat from leaking into the escape route.
In the event of a fire, stairwell doors are opened for entry and exit purposes. The increased air pressure counters the flow of smoke and heat, preventing both from entering the stairwell.
Installing specialised and approved pressure relief vents
Specially designed pressure relief vents – also known as dampers – establish and control these air pressure requirements. If the stairwell air pressure is too low, smoke and heat will enter the protected area. If the stairwell air pressure is too high, people will not be able to open stairwell doors.
Apreco's PRV-123 and the PRV-F② pressure relief vents meet all the requirements to prevent the over pressurisation of a stairwell. These pressure relief vents are easy to install and can be used in industrial applications. These PRV vents, in combination with security louvres, are even used in applications for the defence industry.
Apreco – experts in pressurisation systems – provides services, including advice and guidance, during the tender, design, and development phases of high-rise building projects. All Apreco pressure relief vents comply with the required standards, including the BS EN 12101-6:2005. Specialist balancing ensures these vents open when a pressure of 50 Pa is reached.
The importance and necessity of pressure relief vents in the pressurisation of stairwells. cannot be overstated. These systems prevent smoke and heat from entering escape routes, providing evacuees with the means and time to escape fires. In addition, the vents provide protected entrances for firefighters, and they also delay the spread of fires.
Related Products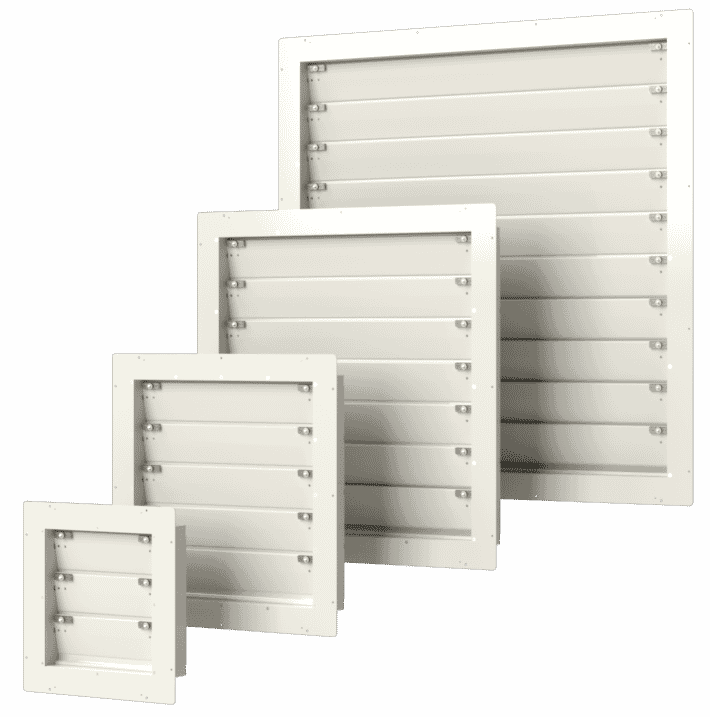 PRV-F② Pressure Relief Vent
Product Details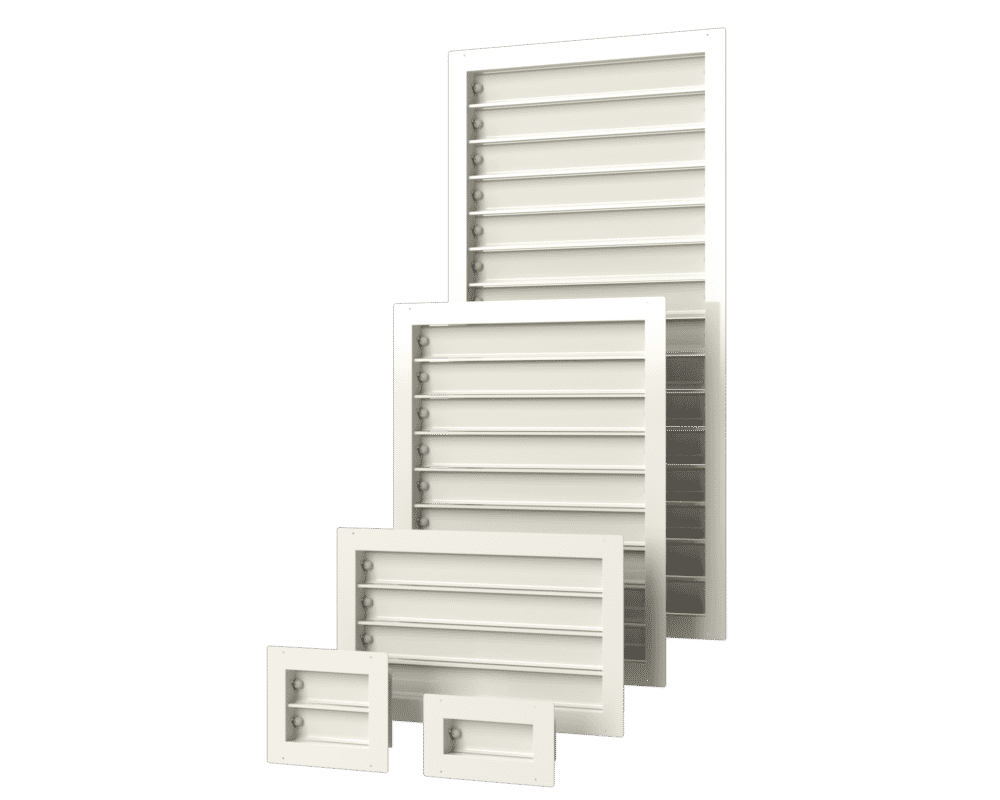 PRV-123 Pressure Relief Vent
Product Details