Case Study
Isolation rooms: Positive versus negative pressure rooms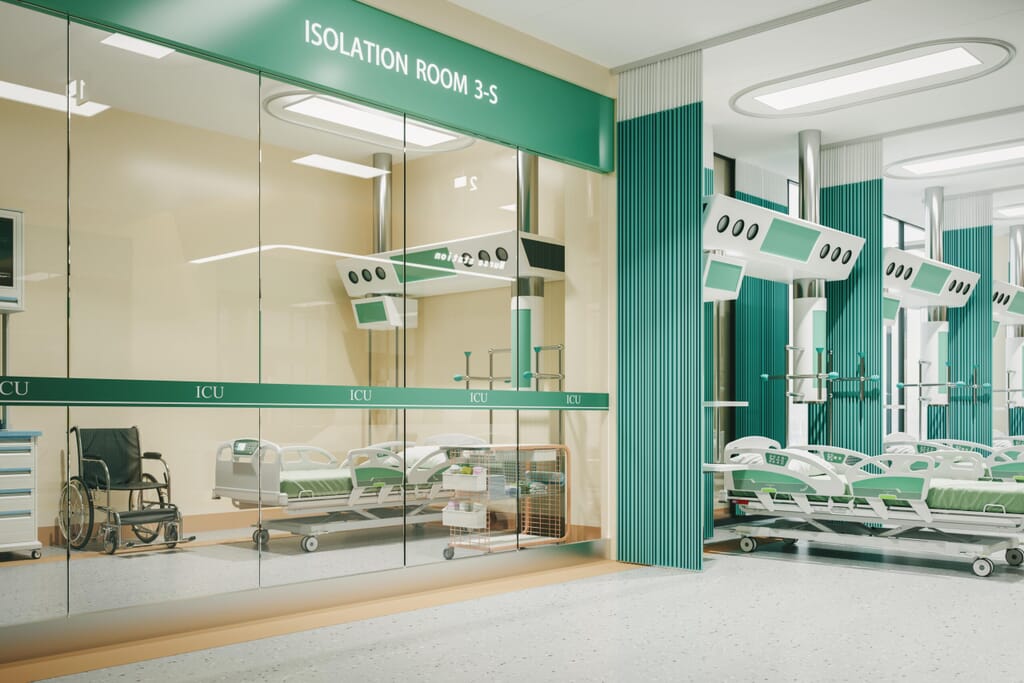 In any healthcare setting, efficient ventilation systems ensure the comfort of patients, staff, and visitors. Such systems are also essential for helping to prevent the spread of harmful microorganisms.
Healthcare facilities throughout the world recognise and emphasise the fundamental importance of preventing the spread of infections. With the emergence of COVID-19, the significance of the need for measures to mitigate the risk has been highlighted because this particular infection is spread via airborne droplets.
Medical and engineering experts maintain that the importance of ventilation and controlled airflows in healthcare environments cannot be overstated because pathogens spread rapidly in enclosed spaces. Poor ventilation and incorrect control of air pressure accelerates and promotes this spread.
The European Heating, Ventilation and Air Conditioning Association (REHVA) has postulated that adequate ventilation is the first step in engineering infection prevention and control. That is why hospitals, etc., use isolation rooms to prevent the spread of infectious organisms to protect patients and others.
Isolation rooms
The purpose of an isolation room is to act as a barrier. It needs to contain airborne pathogens within it and must prevent their entry.
Patients need to be treated in isolation when:
Infectious diseases are confirmed or suspected
The colonisation or infection of multi-resistant organisms is detected
Conditions render patients vulnerable or susceptible to infections
Air pressure differentials between isolation rooms and adjoining areas, such as corridors, ensure that pathogens do not spread from one place to another. Air pressure stabilisers are used to maintain and manage these air pressure parameters.
Different isolation rooms
Isolation rooms in hospitals can be classified according to the air pressure management system employed to contain the spread of pathogens. In healthcare settings, isolation rooms have negative pressure, a positive pressure, or a switchable airflow.
Experts continuously debate the efficacy of positive and negative pressure isolation rooms and how airborne infection isolation room pressures should be managed. Higher air pressures are positive, and lower air pressures are negative.
Negative pressure isolation rooms
The air pressure in a negative air pressure isolation room is lower than the outside air pressure. The negative air pressure prevents pathogens from flowing to adjoining, non-contaminated areas when the door to the room is opened. Used when caring for patients with highly infectious diseases, the isolation rooms are very effective.
This system should also allow uncontaminated air to flow into the isolation room when the door is opened as air flows from a high to a low-pressure space. Exhaust mechanisms and systems suck contaminated air from the isolation room to a designated area.
Positive pressure isolation rooms
In a positive air pressure isolation room, the air pressure is higher than that in the adjoining areas. Therefore, positive pressure isolation prevents airborne pathogens from entering the room to avoid the air becoming contaminated. These rooms are traditionally used for patients with immuno-compromised conditions.
Switchable airflow isolation room
Isolation rooms with a switchable airflow rely on a mechanical air pressure management system that automatically alternates between positive and negative air pressures. Isolation rooms with switchable positive and negative air pressures pose contamination and protection risks as settings can be incorrect.
Ordinarily, negative air pressure isolation rooms are used as prevention rooms, while positive air pressure isolation rooms are used for protection. Therefore, negative air pressure keeps pathogens in, and positive air pressure is intended to keep pathogens out.
Drawbacks of negative air pressure and switchable airflow isolation rooms
Traditionally, mechanical ventilation systems establish negative air pressure and a switchable airflow.
As mentioned, in the event of an incorrect setting, an isolation room pressure that is switchable from positive to negative constitutes risks to both the people inside and outside the room. Inspectors determined that approximately 40% of these isolation rooms leaked positive pressure to adjoining corridors when the doors were closed.
Additional findings indicated a decrease in negative pressure differentials that cannot be controlled due to the opening of doors and the constant clogging of filters. This harmful permeability in and out of negative pressure isolation rooms establishes routes for transmitting airborne pathogens.
UK Health Building Notes (HBN) 04-01 Supplement 1 (2005)
Research conducted in the United Kingdom contains evidence that a neutral pressure isolation room with a positive-pressure ventilation lobby (PPVL) effectively prevents the spread of airborne pathogens. The Department of Health investigated and now recommends a PPVL isolation room for both infectious and immuno-compromised patients. These guidelines regarding preventing isolation room contamination are contained in the UK Health Building Notes (HBN) 04-01 Supplement 1 (2005).
The PPVL system is more efficient because, in a positive-pressure ventilation lobby, the air pressure is higher than in the patient's room and the adjoining corridors, which remain at neutral pressure ventilation (NPV). That prevents air from the corridors entering the isolation room and vice versa. The room functions as an isolation suite as it has ensuite washroom facilities. The air pressure in the ensuite bathroom is negative in relation to the patient's room. That facilitates air being extracted from the patient's room and filtered in the bathroom before being released outside the hospital.
Isolation room solutions
Shortcuts and cheap alternatives must be avoided in air pressure management systems.
Apreco's APSX Air Pressure Stabiliser was specifically designed to manage air pressure differentials in health care settings. These air pressure stabilisers are widely used in operating theatres, pharmaceutical clean rooms, and isolation rooms.
The balancing system effectively controls air pressure differentials, ensuring that the stabiliser blades close when the pressure drops below required levels. This diversion of the airflow prevents airborne pathogens from flowing into or from protected isolation rooms.
Infection prevention is vital
The importance of infection prevention and control in health care settings cannot be overstated. The global coronavirus pandemic has once again highlighted the need for adequately ventilated and controlled isolation rooms. A neutral pressure room with a positive pressure ventilated lobby creates an environment suitable for managing infectious and immuno-compromised patients. There is no doubt that air pressure stabilisers provide practical solutions and effectively manage the required air pressure differentials.
Working on a healthcare build and require some assistance with product selection or airflow design? Get in touch with our technical sales team via sales@apreco.com