News
The Importance of Air Pressure Stabilisers within Operating Theatres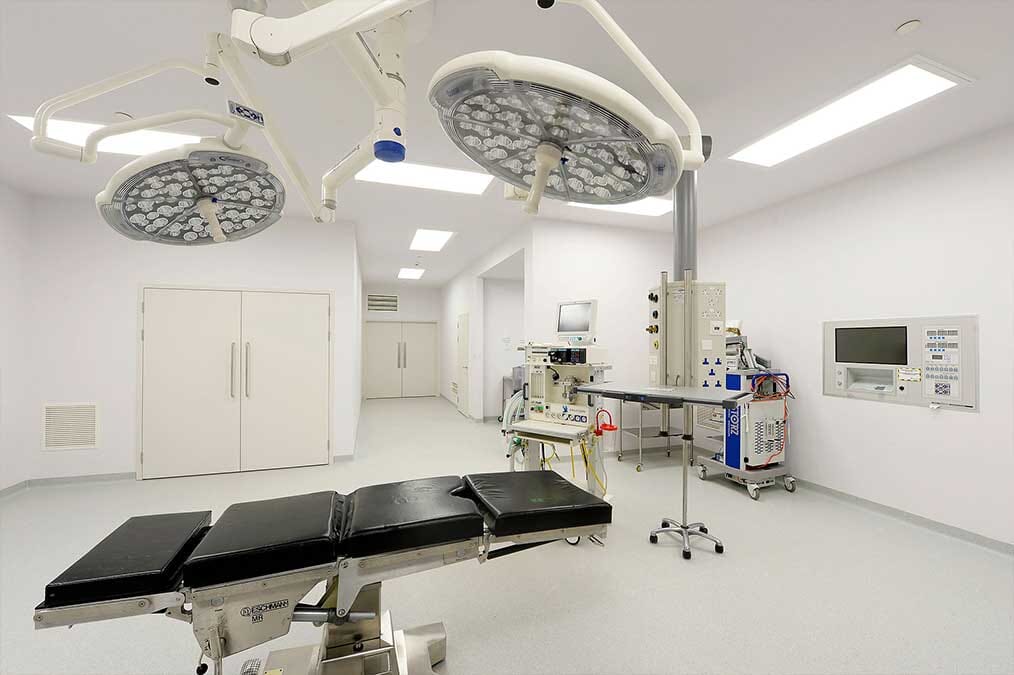 Air Pressure Stabilisers are employed within Operating Theatres to control the transfer of airborne contamination. Invisible particles fill the air around us. These can be anything from liquid droplets and dust to smoke and soot. A colony-forming unit (CFU) is an airborne particle-laden with bacteria or other disease-causing microbes. A microbe or pathogen-carrying particle can enter the human body through various means, such as the COVID-19 virus that enters the body via the respiratory system.
The control and prevention of nosocomial infections, also known as hospital-acquired infections (HAIs), is paramount in any healthcare facility. Airborne microbes are just as present in healthcare environments as in any other setting.
Any hospital-acquired infection has financial, clinical and psychological consequences. lengthier hospital stays, remedial surgery, and added stress on the patient and family members are but a few of these.
Hospitals and other clean room facilities use air pressure stabilisers to prevent the ingress of airborne microbes into rooms. These ventilation systems establish positive air pressure barriers whenever doors or other ingress or exit points are opened. Globally, these ventilation systems are used in areas such as:
Isolation rooms
Operating Theatre Suites
Aseptic suites
Pharmacies
Sterile working environments
Surgical site infections (SSIs)
Surgical site infections (SSIs) are specific nosocomial infections referring to the infection of a surgical incision site after a surgical procedure. Patients contract these infections while undergoing surgery in the operating theatre.
Our skins form a natural shield against infection. Any break in the skin opens a possible entry point for bacteria or other microbes. Surgical incisions expose our systems to these infections, which are caused by:
Bacteria present on the skin itself and then spreading to the incision site.
An infection present in the body, which spreads during surgery, whether it be from a specific area or organ.
Contaminants in the environment such as the air or unsterile surgical instruments.
SSIs cause numerous post-surgical morbidities and are major contributors to post-surgical mortality rates. Additionally, these infections increase the clinical and financial burdens on healthcare systems.
The NHS reported that infections associated with hip and knee replacements are as high as 4%. An estimated £300m could be saved per year if hospitals decreased this rate to 1%. Experts attributed more than 15.5% of all healthcare-acquired infections to SSIs.
A study in Germany claimed that approximately 4,500 people die from post-operative infections (POIs) annually. This research further highlighted the risks related to different types of surgeries. The use of electro, laser or other means to cauterise wounds is one of these variants. Surgical smoke containing vapour, gas and other molecular contaminants pollute the air in the operating theatre, posing further infection and health safety risks.
These statistics alone underpin the importance of air pressure control within hospital operating theatres. Managing the amount and flow of contaminants in an operating room environment using positive pressure, can make a significant impact on controlling and preventing SSIs.
Health Technical Memorandum 03-01 and Health Building Note 04-01
The Health Technical Memorandum 03-01 (HTM 03-01) and Health Building Note 04-01 (HBN 04-01) detail the standards for heating and ventilation requirements in healthcare environments. These guidelines include design, installation and specialised technology – such as air pressure stabilisers – required in a healthcare environment. Health Building Note 04-01 applies specifically to acute and isolation rooms in a healthcare facility. Applicable to new and existing healthcare buildings, the ventilation requirements include:
Creating a safe and comfortable environment for patients and staff.
Making provision for specialised ventilation in places such as operating theatres, critical care areas and isolation units. Specialised ventilation refers to and includes air pressure stabilisers within a clean room environment. Clean rooms can be defined as any room in which special care must be taken to keep the air and surfaces free of contaminants.
Parameters used to evaluate the efficacy of an operating theatre's ventilation system include:
Room pressure and pressure differential testing must be undertaken annually to verify that the operating theatres and clean room environments meet the approved HTM 03-01 and HBN 04-01 standards.
Temperature control in the operating theatre. Correct temperatures promote concentration and hypothermic temperatures increase the risk of infection.
Energy use associated with the installed ventilation system.
It is crucial that the design of operating theatres incorporates cascade ventilation systems and air pressure stabilisers to comply with these health technical regulations.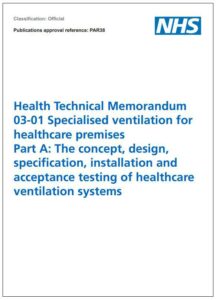 Cascade ventilation systems and air pressure stabilisers
Cascade ventilation systems and air pressure stabilisers work in tandem to keep airborne contaminants out of clean room environments such as operating theatres and isolation units.
A cascade ventilation system ensures unidirectional airflow, making sure that possible contaminated air is not continually circulated in a room. This system cascades air from a sterile area through various tiers and finally into a designated unsterile area. Studies claim that unidirectional airflow systems control and limit colony-forming units or contaminated air.
These unidirectional ventilation systems cannot operate without air pressure stabilisers, which control air pressure differentials. An air pressure differential refers to the difference in air pressure between two different areas such as two adjacent rooms. Regulating the air pressure differentials or variances between the areas establishes an invisible barrier that prevents air from one area entering that of the adjoining area.
Air pressure stabilisers, such as the APSX Air Pressure Stabiliser range by Apreco, essentially regulate differential air pressures between adjoining areas. Once air pressure changes reach certain levels, the stabilisers close to maintain a clean room and sterile operating theatre environment.
The APSX Air Pressure Stabiliser has been purpose-designed for the application of differential air pressure in environments such as operating theatres to control airborne contamination. The stabiliser:
Operates within a comprehensive range of 3 to 50pa.
Is manufactured in the UK according to the highest quality control standards.
Is approved and certified with serial number traceability.
Air pressure control within hospital operating theatres is a first-line defence and vital measure in air quality control. These systems ultimately save lives, lessen the burden on healthcare systems, and help to manage fragile healthcare budgets.
Working on a healthcare build and require some assistance? Get in touch with our technical sales team via sales@apreco.com